Economic Forecast Breakfast
Friday, February 14, 2020
The Chamber invites its members to a breakfast on Friday, February 14, beginning at 7:30 a.m. Attendees will hear from Joe Murphy, Executive Director of the Iowa Business Council (IBC), about Iowa's Competitive Dashboard, a nonpartisan, data-driven review of the state's economic climate. The dashboard measures Iowa's progress in five categories relative to other states and serves as a tool to policymakers and business leaders in determining policies and priorities that will elevate Iowa's economy.
IBC's 2020 Dashboard in rolled out in January, and Murphy will present its findings with Chamber members. In addition to the data, there will be a conversation about the barriers our community faces and the solutions you have used to address these challenges.
Cost is attend is $20 per person (includes a hot breakfast). Registration deadline is Friday, February 7, 2020. Click here to register.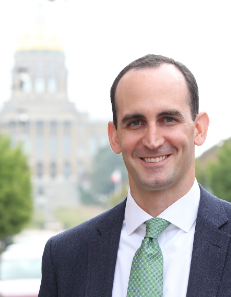 2019 Chamber Experience Trips
The Marshalltown Area Chamber of Commerce is once again offering two Experience Trips in 2019. While the domestic trip has taken place, the international trip, Classical Greece Explorer, will happen November 5-13, 2019. It features Athens, Lympia, Delphi, and Kalambaka.
Chamber Experience Trips offer travelers a unique experience, focusing on familiarization with different parts of the country and world in order to foster a deeper understanding of people groups, economies, and other cultures.
To see a travel itinerary with details and costs, click Classical Greece Explorer.
Storm clean-up assistance
Individuals affected by the tornado in Marshall County can request volunteer assistance with clean-up and debris removal in two ways. They can contact United Way 2-1-1 by dialing 1-866-469-2211, staff are available 24/7 to assist you. Or, they can complete the form at the following link: Homeowner Assistance Request Intake Form.  This information will be coordinated with Central Iowa RSVP who is providing volunteer coordination.