The 2022-2023 issue of Livability Marshalltown is out and now available online!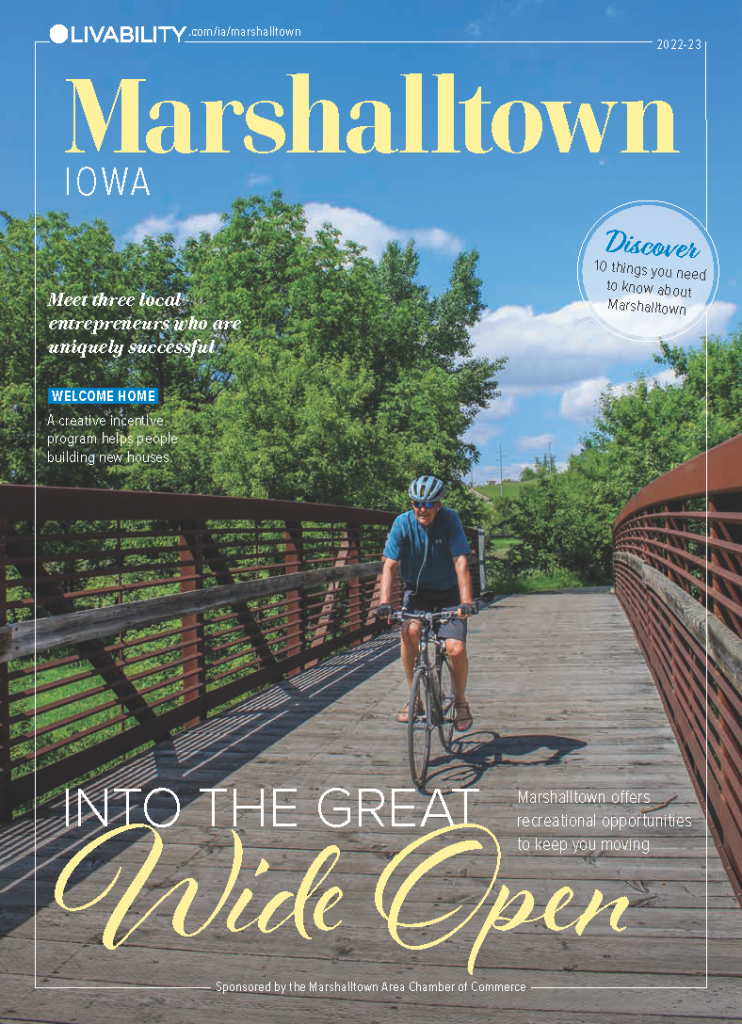 Livability Marshalltown, Iowa, an annual print magazine and a digital content marketing program, encourages business investment, talent recruitment, and relocation by reaching entrepreneurs, site selectors, corporate executives and talented
individuals and families attracted to our quality of life.
We partner with Livability Media to produce a high-quality print magazine, a user-friendly digital magazine and engaging content on Livability.com —all promoting our favorable business climate, attractions and enviable community. The Livability.com site is sleek, savvy and extremely user-friendly.
We hope you'll join us in spreading the word about the many benefits of living and doing business in Marshalltown. In this competitive and evolving business and tourism landscape, Marshalltown's content is beautiful, informative and easy to access and share!
The program gives you the tools to explore and share the many success stories of our region:
● Go to livability.com/ia/marshalltown.
● Click through and share articles about business success stories, school programs,
must-dos around the community and more. Each article includes share tools for quick
posts to social media.
● To read and share the digital version of the magazine, click here. You can flip through
online or download the book in a PDF format. You can also use share tools to quickly
send a link by email or post to social media.
● To get a print magazine, contact the Chamber office (641-753-6645 or office@marshalltown.org).
It's the unique story of our city.
Read it. Enjoy it. Share it.