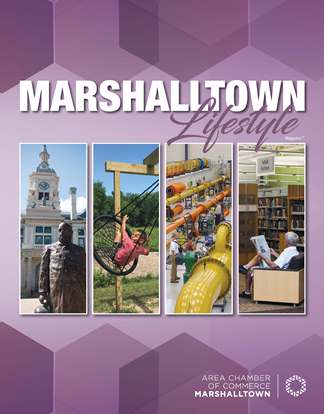 Click here to view.
Why Choose Marshalltown
Marshalltown is a community of approximately 28,000 people centrally located in the heart of Iowa.
Diverse – The area has a multi-cultural composition that creates a rich ethnic diversity both essential and prized in today's global economy. Our community members have the opportunity to learn about, interact with, experience, taste, and shop a multitude of cultures.
Collaborative – What's more, our community has a long history of successful collaborations. When a group of our community members see a need and catch a vision, watch out! Good things will happen.
Artistic – Brimming with art and cultural offerings, the Marshalltown area is the proud home of:

Sculpture – including Christian Petersen's final piece "Dedication to the Future."
Theater – Performing arts are alive and well in Marshalltown thanks to the Martha-Ellen Tye Playhouse, the Marshalltown Community Theatre, the Orpheum Theater Center, and Live On Stage Marshalltown which brings a season series to places such as the Marshalltown High School/Community Auditorium.
Art – both indoor and outdoor exhibits are found around town including Echo in the 13th Street District, the Ray Frederick Gallery at Marshalltown Community College, plus the Fisher Community Center which boasts an outstanding ceramic collection as well as many notable works of art found in the Impressionist Gallery.

Recreational – Opportunities abound with the Marshalltown YMCA-YWCA's state-of-the-art athletic complex, Linn Creek Recreational Trail, Marshalltown Speedway, Riverview Park Campgrounds, Central Iowa Fairgrounds, Nicholson-Ford Wetlands, Marshalltown Family Aquatic Center, adult softball and Little League diamonds, GrimesFarm and Conservation Center and its brand-new Nature Playscape, Skate Park, Marshalltown Dog Park, disc golf course, a number of traditional golf courses, numerous wildlife and recreation areas, and more.
New to the community and want to learn more? The Chamber's Make Marshalltown Home Ambassador would be glad to visit you with a special gift package. To connect, email kmorris@marshalltown.org.