Chamber announces redesigned Leadership Marshalltown program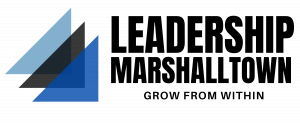 Monthly program plans to relaunch this fall
The Marshalltown Area Chamber of Commerce is excited to announce a new name and logo for the area's Leadership course group. Continuing on the 30-year history of the Iowa Valley Leadership program, the new effort will now be known as Leadership Marshalltown.
Leadership Marshalltown and its new logo are designed to be an all-encompassing name for the program which looks to add more leadership qualities to the program, while also continuing the community aspect of it as participants learn all about the great things throughout the community. With the new name, the Leadership Marshalltown course will combine learning how to be a better leader within your organization as well as a better leader within the community.
"Being a former participant of the class in its earlier form, I knew of all the good the course brings to the community. I wanted to continue that aspect and let future participants see some of the different and unique businesses and places that Marshalltown has to offer." shared Kyle Hall, Workforce Development Coordinator with The Chamber. "I also wanted to add a true leadership curriculum to enhance the program while letting the employers who send participants to know they are getting better and more educated employees as well."
"Keeping the framework and general traditions of the former Iowa Valley Leadership was an integral part of the redesign Kyle proposed and I think he has a great plan in place," said Chamber President and CEO John Hall. "Leadership Marshalltown is poised to be a premier leadership group and will only continue to showcase all the great things that are happening in Marshalltown and the surrounding communities."
The Leadership Marshalltown course will be limited to 25 area individuals. The course is open to businesses sponsoring an employee or anyone living or working in the Marshall County area. Individuals selected after the application process will participate in a 9-month course from September to May each year, with meeting an average of once per month.   Those interested can check out the Chamber's website for more information or reach out to Kyle Hall via email at
khall@marshalltown.org
.
For more information and the application materials visit