Welcome to the Marshalltown Area Chamber of Commerce
The Marshalltown Area Chamber of Commerce is located in Marshalltown, Iowa, a community of approximately 28,000 people.
The Marshalltown Area Chamber of Commerce is a 118-year old organization of businesses and individuals working to improve the quality of life and to promote the economic wellbeing of our community through leadership, commitment and participation. The Chamber's mission is "To be a leader and partner for business and quality of life initiatives in the Marshalltown area."
Simply stated, the Chamber actively seeks to make Marshalltown a better place for everyone to live, work and play.
--------------------------------------------------------------------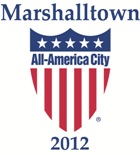 Marshalltown named All-America City
Marshalltown was one of 14 communities nationwide selected to receive the National Civic League's prestigious All-America City Award for 2012. The award, which has now been granted to over 600 communities during the past 60 years, honors communities for exemplary citizen efforts to work together to meet and resolve challenges that impact quality of life for all residents.
The focus of this year's award was to develop a plan based on broad and diverse community input to significantly improve third grade reading proficiency – a future workforce preparedness challenge that faces communities of all sizes throughout the nation and is especially acute in those locations with significant new immigrant populations..
The goal of the resulting Marshalltown plan, titled "Spread the Words – Read by 3rd!", is to increase to 90 percent the number of children reading proficiently in 3rd grade by the year 2016. Critical area goals for 2016 are: 85 percent of children entering kindergarten will be "ready"; the number of summer learning opportunities that meet the recommended nine elements of quality summer learning programs will be doubled; and average daily attendance will be maintained at or above 95 percent while reducing chronic absences by 50 percent.
The citizen participants in the Spread the Words – Read by 3rd! Campaign are well aware of the hard work that lies ahead, but they are also aware that Marshalltown has a long history of successful collaborations and that is a strong platform to launch and motivate their efforts.