Meet in the Middle
Let us, the Marshalltown Convention & Visitors Bureau (MCVB), help you find the perfect venue to create a memorable moment.
Whether planning a conference, meeting, wedding, family reunion, military reunion or simply meeting friends halfway, Marshalltown is the ideal location offering a convenient place to which guests and attendees can travel to with ease on US Highway 30 or State Highways 330 & 14.
We pride ourselves in the many things to do & see here in Marshalltown. Enjoy miles of recreational trails, explore prairies and wetlands, climb a 30-foot tower, view a Post War Impressionist art collection, experience the all-Iowan Actors exhibit, walk through museums and a one-room school house, take self-guided tours and so much more.
Our community calendar of events is the hub to finding events in Marshalltown | Marshall County. Give us a call with any questions, we would enjoy talking to you.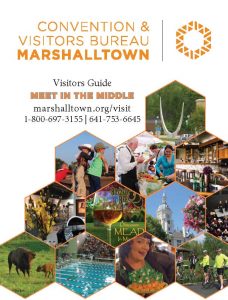 View our Marshalltown Visitors Guide.
Staff
Val Ruff
Executive Director
Shauna Banks
Executive Assistant
Contact Us