Meet in the Middle
Whether planning a conference, meeting, wedding, family reunion, military reunion or simply meeting friends halfway, Marshalltown is the ideal location offering a convenient drive from all four corners of the state. The Marshalltown Convention & Visitors Bureau (MCVB), can help you find the perfect venue to create a memorable moment.
Marshalltown has several things to do & see. Enjoy miles of recreational trails, climb a 30-foot tower, view a Post War Impressionist art collection, experience the all-Iowan Actors exhibit, walk through museums and a one-room school house, take self-guided tours and so much more.
The community calendar is the hub to finding events in Marshalltown and Marshall County.
Give the MCVB a call with any questions, they would enjoy talking to you.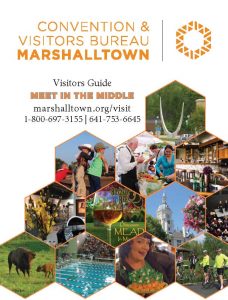 View our Marshalltown Visitors Guide.
Staff
David Barajas, Jr.
CEO, Marshalltown Regional Partnership
Val Ruff
Executive Director
Shauna Banks
Executive Assistant
Contact Us