About the MCVB
The Marshalltown Convention & Visitors Bureau (MCVB) has been in operation since 1991. The MCVB is operational through the funding received from a percentage of the Motel/Hotel tax. Tourism office is located at the Fisher Community Center which was generously donated to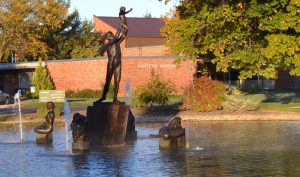 the community by William (Bill) Fisher and is the location of Christian Petersen's final sculpture, "Dedication to the Future".
Meet in the Middle
Marshalltown is the ideal location offering a convenient drive from all four corners of the state. The MCVB assists groups planning meetings, conventions, tournaments and events hosted in Marshalltown and Marshall County. They can help find the perfect venue. They also serve as the contact for group tour planners; showcasing Marshalltown as a destination for tours. See the Planners web page for more information.
Visitor Information
Visitors and the community can find Events online. The MCVB manages a web page that is considered the hub for Marshalltown and Marshall County events. Events are added daily by community members, organizations and businesses offering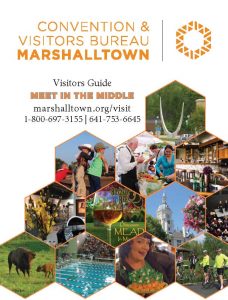 events open to the public.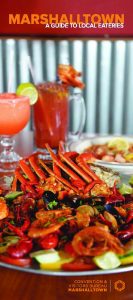 View the digital pages of the Marshalltown Menu, A Guide to Local Eateries.
Stop by the MCVB office for a Marshalltown Visitors Guide, map and other brochures about  Marshalltown and the area.  No matter your interest, Marshalltown has something for everyone.
MCVB Mission Statement
The Marshalltown Convention and Visitors Bureau is dedicated to promoting the Marshalltown area as a destination for meetings, conventions, group tours, and recreational activities, with an emphasis on overnight business.    Adopted:  August 24, 2000
MCVB Board of Directors
The Marshalltown Convention & Visitors Bureau Board meets every fourth Thursday of the month at 4 pm. Typically, the meeting is held at the Fisher Community Center but has met at other locations in Marshalltown.
Staff
Val Ruff
Executive Director
Contact Us