Wild Kratts Halloween Party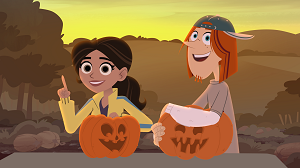 School-aged kids are invited to come to a special Wild Kratts "no school day" event on Monday, October 29 at the Marshalltown Public Library. Free and in partnership with Iowa Public Television, this event will be offered at 10 a.m. and repeated at 1 p.m. to accommodate more kids.
Kids will watch a Halloween-themed episode of Wild Kratts on the big screen (approximately 50 minutes.) After the show, the event will feature several stations for hands-on fun, including snacks, mask-making, Iowa State's Insect Zoo, a spider craft and more. Snacks and STEM activity provided thanks to Hy-Vee. Kids will also get a free book to take home.
No pre-registration is required for families (daycares or other organizations who want to bring school-aged kids should call to check for space, 641-754-5738, ext. 3.)
The program is geared toward school-aged kids; families are welcome to attend together (kids who may be too little for the movie or some activities can spend time with a parent or caregiver in the youth area, while older siblings participate in the event.)
Please call the Marshalltown Public Library for more info about this or any library programs or services: 641-754-5738.