U.S. Railroad Operations During World War I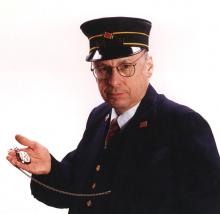 The Marshalltown Public Library has received funding from Humanities Iowa, a private, non‐profit state affiliate of the National Endowment for the Humanities, to host a presentation called U.S. Railroad Operations since World War I by Dr. Rudolph Daniels at 2:00 p.m. on Saturday, April 6th in the library's community meeting rooms. A cultural resource for Iowans since 1971, Humanities Iowa offers many cultural and historical programs and grants to Iowa's communities.
Daniel's presentation will explore U.S. railroad history during World War I, in both its civilian and military aspects. Domestically, the federal government actually took over the Class I railroads until 1921. Overseas, the United States Army operated its own trains with American equipment in France. It constructed over 1,000 miles of standard gauge rail in France and hundreds of miles of narrow gauge to the trenches. The Army also sent soldiers to north Russia and to Siberia to operate and to protect American locomotives and freight cars. U.S. production of tracks and equipment was absolutely astounding not to mention the logistics of transporting locomotives and cars to three regions of the globe. It is a little-known fact that the U.S. railroad operations in France brought the signing of the Armistice on November 11, 1918!
Rudolph Daniels received his Ph. D. in Russian and Soviet Studies from the Pennsylvania State University in 1971. Since then he has taught at colleges and universities in the United States and in Germany. He has written numerous articles and five books. His book, Trains Across the Continent, a complete history of U.S. and Canadian railroads, was written at the request of the railroad industry and is considered the official account of our nation's railroads. He has also published Sioux City Railroads. He has just finished another book, The Great Railroad War, on "US Railroads in World War One." More recently Dr. Daniels was a contributing editor of the professional Railway Atlas of the United States and was script consultant for a recent Public TV production of "Orphan Trains."
This presentation is free and open to the public. For questions or more information, please contact the library's Information Desk at 641-754-5738 ext. 4. If you are a person with a disability who requires special assistance, please call 641-754-5738 ext. 4 in advance.