Organ Concert and Patriotic Sing-a-long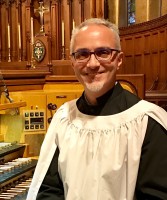 Mr. Mark Babcock, the Organist of our Diocesan Cathedral in Des Moines, is a gifted musician. He plans to include some patriotic sing-a-long opportunities to celebrate the great ideals of America.
An ice cream social will follow the concert. There will be a free will offering. Go to www.markalanbabcock.com for more information on the organist.