Oktemberfest Teen Dance Party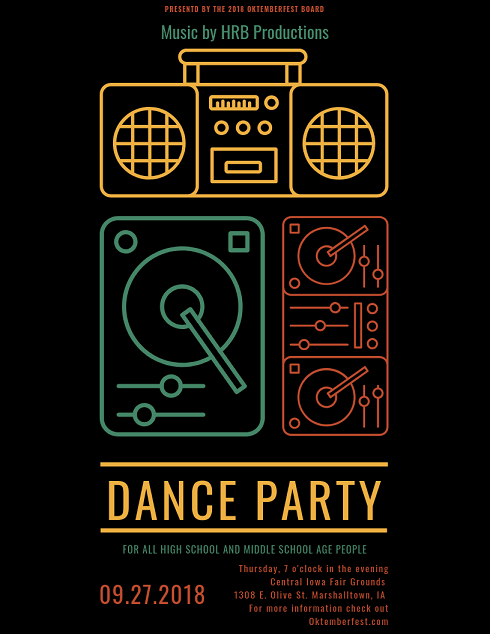 Dance Party! This one for you Teenagers! Who said adults get to have all the fun at Oktemberfest?! D.J. by HRB Productions a.k.a Heather Rae Baker will be bringing it with the sweet tunes from today's latest charts for all you High School and Middle School people from 7:00-9:00 p.m.!
Completely free and open to all this year's events will be located at the Central Iowa Fair Grounds. Enjoy food vendors and the carnival too!!
5:00-9:00 p.m. Gopher State Carnival NEW to Marshalltown! TWO additional hours! Wristbands only $20.00 for all night!!
5:00-8:00 p.m. **NEW THIS YEAR** Game Truck Video Game Semi will be pulled up on ground to experience 36+ of the latest and greatest videos games!!
GameTruck's brightly-colored high-definition TV's reveal awesome adventures, co-operative challenges, and epic competitions. The music pulsing throughout the truck gets your heart racing. The long alluring couch beckons you and your friends to come relax and start gaming. Then as soon as you pick up that game controller, you will know that the party has truly begun.
• 36+ age appropriate video game titles
• Certified GameCoaches
• Latest Consoles including XBox One, PlayStation 4, Wii-U, and Nintendo Switch
• HD Flat Panel TV's
Des Moines has been captivating guests since 2009. Game Truck's trained staff will keep the line moving, and make it easy for you to deliver the kind of excitement your guests expect.