Oktemberfest Kid's Night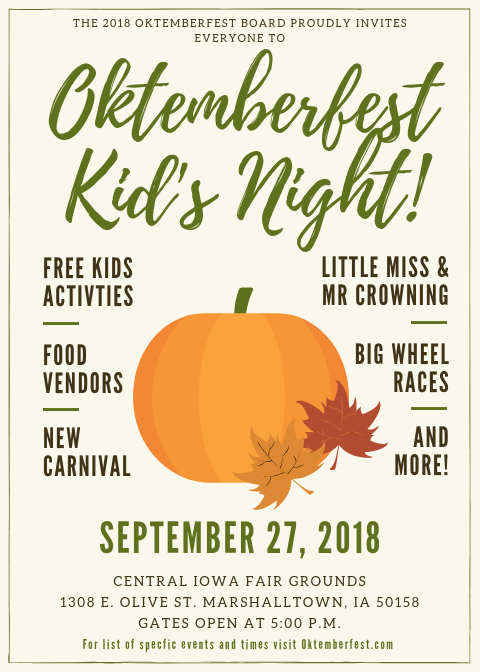 Classic fun, new adventures and old favorites can all be found at the first night of Oketmberfest at Kid's Night! Completely free and open to all this year's events will be located at the Central Iowa Fair Grounds. Supervised open play and structured activities for the littlest of tykes, older children and now even for teenagers! Enjoy food vendors and the carnival too!!
2018 Oktemberest Schedule of Events for Thursday September 27th, 2018:
5:00-9:00 p.m. Gopher State Carnival NEW to Marshalltown! TWO additional hours! Wristbands only $20.00 for all night!!
5:00-8:00 p.m. **NEW THIS YEAR** Game Truck Video Game Semi will be pulled up on ground to experience 36+ of the latest and greatest videos games!!
5:15-5:45 p.m. Little Miss & Mr. Registration open to all area 1st and 2nd Graders at the Registration Table with crowning beginning at 6:00 p.m.. All registrants must be able to ride in the Saturday morning parade, if chosen. All are invited to the most magnificent spectacle for the crowing of Little Miss & Mr. Oktemberfest that will be chosen by a random drawing in front of friends and family on the Main Stage!
5:15-7:00 p.m. Free ¼ mile Kids Fun Run and $5.00 1K Color Blaze Registration at the Registration Table. Fun Run and Color Blaze is at 1:00 p.m. on Saturday September 29th.
Inside Activity Building:
5:00-6:00 p.m. Big Wheel Races for ages 8 and under
5:00-6:00 p.m. Hot Shot Basketball with the Marshalltown Community College Basketball Team; The Tigers will show the kids how it's done! Activity for ages 7 and over
Outside Kids Activities for All Ages:
5:00-6:00 p.m. Giant Parachute for ages 7 and above and the Big Parachute for ages 6 and under with the Marshalltown YMCA-YWCA with two age groups, so even the littlest can have a turn.
5:00-7:00 p.m. Kingdom Clown Balloon Animals
5:00-7:00 p.m. Xtreme Dance hosts Face Painting
5:00-7:00 p.m. Hula Hoop Lessons with Sparkle Hoops Dance
5:00-7:00 p.m. Kids Playground Equipment and Sand Box located on the Central Iowa Fair Grounds
Main Stage:
5:00-5:15 p.m. National Anthem & Welcome: Emcee Melia Clark
5:15-5:30 p.m. **Stage Break**
5:30-6:00 p.m. Zumba Kids with Karen Gale from Marshalltown Park and Rec
6:00-6:15 p.m. Crowning of Little Miss & Mr. Oktemberfest!
6:15-6:30 p.m. **Stage Break**
6:30-7:00 p.m. CrAzY Family Dance off! Who's got the sweetest moves under your roof?! Invite friends and family to really get down to all your favorite songs you already know the dance moves to like the Chicken Dance, Cupid Shuffle, Thriller and more! **All crowd sing-a-long to "Don't Stop Believing" at 6:55 p.m. ** D.J. by HRB Productions