Music at the Meadery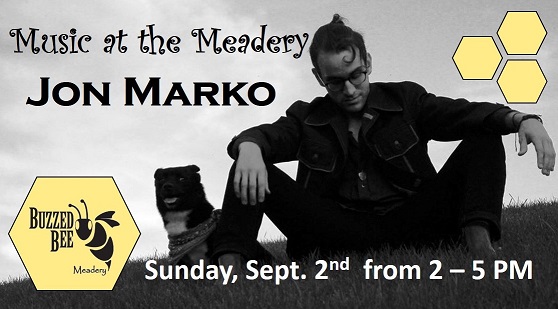 We are excited to welcome Jon Marko to the Meadery on Sunday, September 2nd. Jon Marko will be playing Flamenco blended with indie rock and folk music from 2-5 PM. Bring your friends and family and join us for a relaxing afternoon at the Meadery.
Be sure to check out Jon Marko on Facebook.
Important things to remember.
– The entire family is welcome at the Meadery, but you must be 21 to drink. Please be prepared to show us your ID.
– Please do not bring in your own alcohol. Iowa State Law prohibits outside alcohol and we like having a license. Sorry but law breakers will be asked to leave.
– You are welcome to bring your own food on site. Occasionally we have a food truck joining us so we encourage you to support them.
– The Meadery will be closing following the event so as much as we love you we may send you home.
– For the dog lovers joining us we ask that you respect others in attendance and leave your furry family member at home during events.
– We have limited outdoor seating so bring your chair or blanket.