"Geometria" Art Show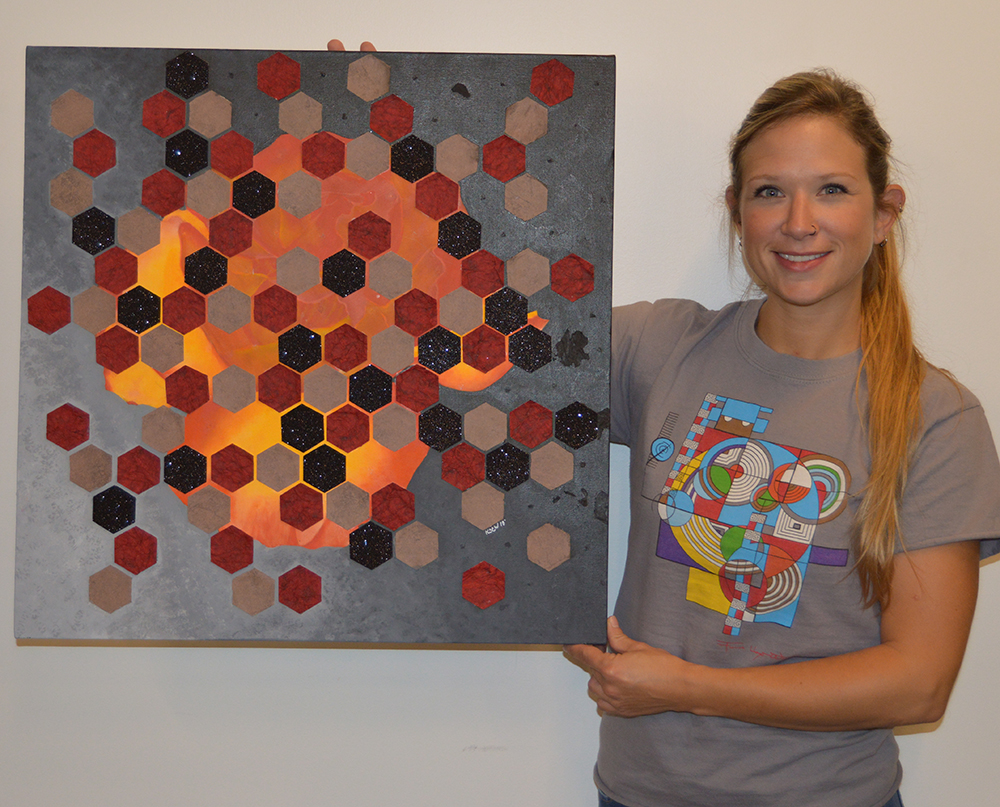 Marshalltown artist and former MCC student Keeley (Elsberry) Weeks will kick off the new academic year as the first featured artist in the Ray Frederick Gallery, room 306, on the Marshalltown Community College campus. Her exhibit, entitled "Geometria," opens with a reception from 12:15 to 1:30 pm on Wednesday, Sept. 5, and will be on display through noon Friday, Sept. 28.
Weeks says her show will include varied media, and she may add a few older pieces that are not part of the "Geometria" theme.
"Some people see things in life as being black or white, but I'm the colors in between," says Weeks. "Over the past two years I've become attracted to geometric shapes … geometria is Latin for geometry. As an MCC student, my artwork was based on illusion, and I've paired that with a new appreciation for symmetry to land on the theme of geometria. I love color, and bending colors into other colors. I seem to see synchronicity everywhere, particularly with colors, and it reminds me that all humans are connected in one way or another. That really inspires my artwork."
Weeks attended Marshalltown Community College in 2008-09, then transferred to the University of Northern Iowa (where she studied Art and Psychology) and then Buena Vista University (where her focus became Psychology). She was employed as the Executive Director of the Central Iowa Art Association from March 2015 until her position was eliminated due to funding cuts last November. Until she can continue her education, she's working part-time and focusing on her artwork and raising her son, Maddox, age 5.
"I was what you'd call a troubled teen," Weeks explains. "I was in and out of school and dropped out twice before I began attending Excel High School here at the college. I think that saved my life. I had been living on my own since I was 15, and Excel is where I decided that I really wanted to make something of myself. My past experiences led me to an interest in Psychology, and my dad (John Elsberry) was a huge part of why I am an artist. Amazingly, with all of that school trouble early in life, I made the Dean's List my first semester at MCC."
In addition to her own artwork, Weeks has been working with the Iowa Arts Council and does art coaching for non-profit art organizations. She's taught art classes in a nursing home, where one elderly resident cried in amazement at what she was able to produce under Keeley's watchful eye. This summer she received a grant to teach art to senior citizens in small-town libraries, including Toledo and Gladbrook. "Seeing the shine in their eyes as they got into their projects just gave me goosebumps," she exclaimed. "I'm convinced that there's an artist inside everyone!"
The Ray Frederick Gallery is open weekdays from 9 am to 5 pm. For more information contact MCC Art Professor Tim Castle at 641-844-5776 or Tim.Castle@iavalley.edu.