1K Color Blaze and 1/4 Mile Kids Fun Run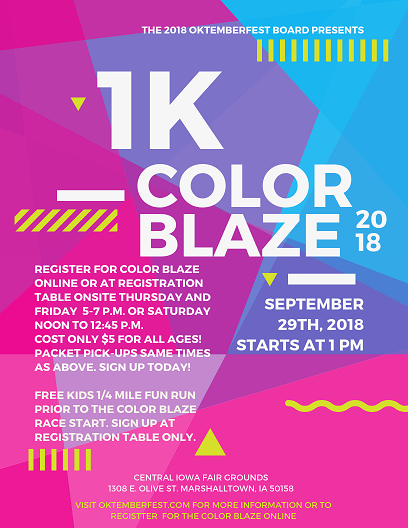 This year the color run will be shortened to a 1K due to the change of Venue. We are also combining the children race with the main color run. The Free 1/4 mile Kids Fun Run will begin at 1:00pm. After the children race the 1k Color Blaze will begin.
We will be meeting at one end of the Pavilion located at the fairgrounds. We will have color for the end of the Kids Fun Run as well as during the 1K run.
The T-shirts this year are limited. We do have a variety of sizes (including some youth sizes), so those who pick up their shirts first will get the first choice. Shirts can be picked up Thursday 5-7 pm, Friday 5-7 pm or Saturday 12-12:30 pm before the race starts.
Another change for this year is the cost; pay $5.00 to join in on the color. You have an option to register using the link on our website or paying Thursday, Friday or Saturday of Oktemberfest.The 1/4 mile Kids Fun Run is free.
https://secure.getmeregistered.com/get_information.php?event_id=130536
Click link to register online or visit Oktembrfest.com