10th year Anniversary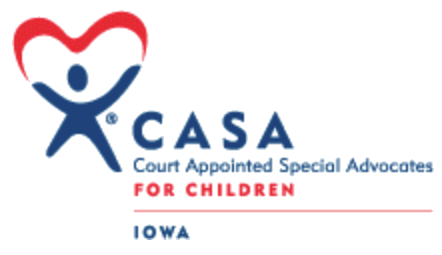 The Court Appointed Special Advocate (CASA) program is celebrating its 10th Anniversary in Marshalltown, IA for Child Abuse Prevention Month.
We invite you to join us – learn how you, your family members, friends, employer and community leaders can become a partner with CASA in changing our community, one vulnerable child at a time.
We seek to recruit new volunteers to serve more abused and neglected children in Marshall County.
Trained Community CASA Advocates promote the best interests of abused and neglected children who find themselves, through no fault of their own, involved in the child welfare system.
In 2016, over 130 abused and neglected children in Marshall County would benefit from having an advocate.
"I am for the child" are not mere words to the CASA Advocate but represent a deep commitment to the best outcomes possible for these children – a safe, nurturing, and loving home.
Registration/sign-in starts at 4:30pm and concluding at 6am after a Q&A session.
RSVP to teresa.barnes@dia.iowa.gov or 641-847-6301